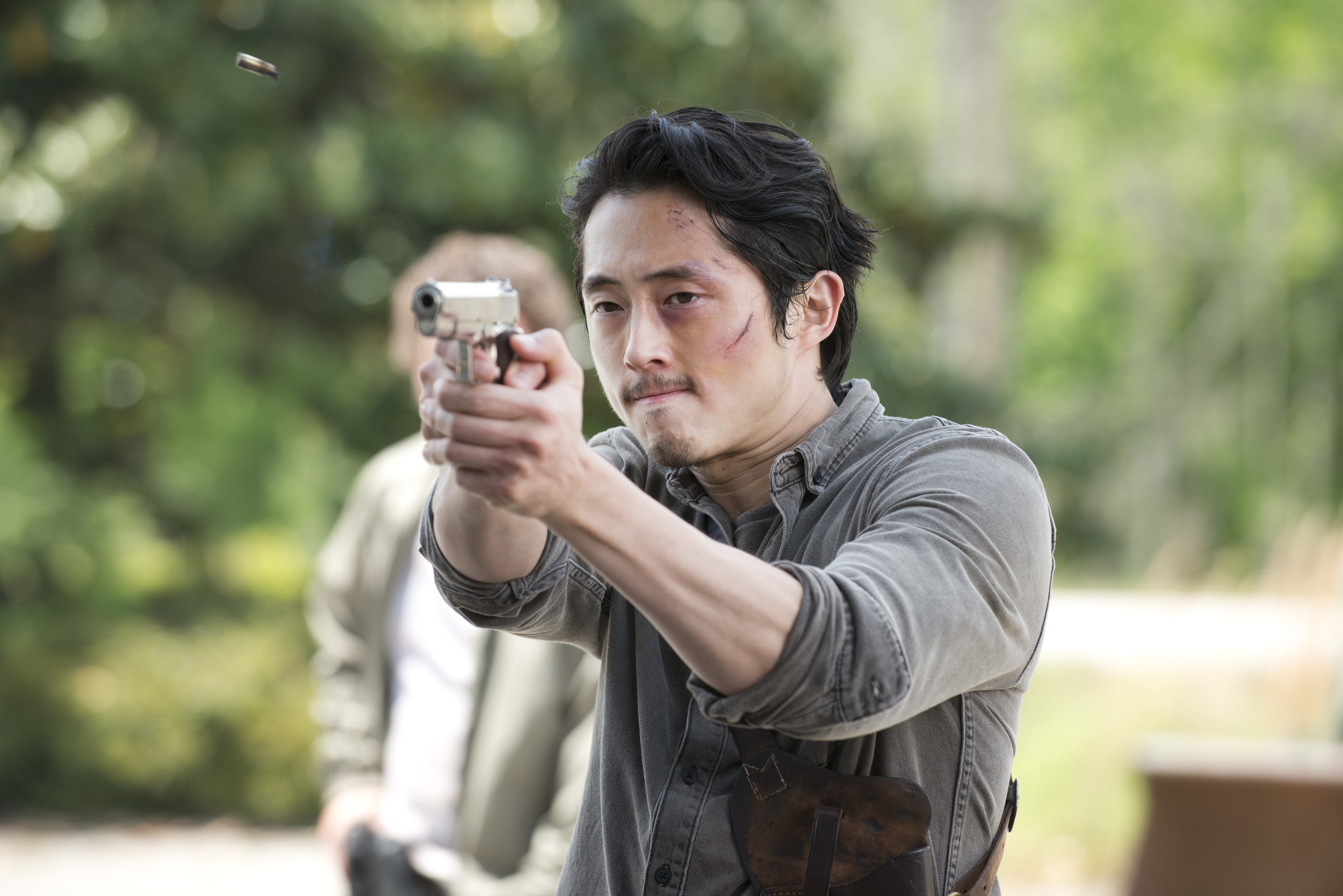 (This post will contain major spoilers for the current season of The Walking Dead. I would recommend against reading it until you have watched S6 E7, "Heads Up")
Just this week, the whole "Glenn is dead" charade finally came to a close with a cold open featuring Glenn's dumpster escape from a whole herd of zombies. If you're just looking at the numbers, the twist was enormously effective: ratings went up as people tuned in week after week to see if Glenn had survived, and the internet was dominated with articles on Glenn's fate.
However, you're not going to find many people who were happy with the way the show handled things. Lots of fans felt pissed off and jerked around by the move, and this sentiment can taint the way people feel about the whole half-season. But why did this twist upset people so much when surprise is so often effective in narrative? I've outlined five major reasons below.
1. The show lied directly to the audience, not the characters
This is really the biggest problem with the Glenn twist: not a single character on the show is in the same mindset as the audience. There are characters who know that Glenn is missing, but the falsity that we witnessed was just for us. We're the only ones who actually saw Glenn get ripped apart by a horde of zombies.
Or, so it appeared. The illusion was created using lots of close-ups to disguise the fact that Nicholas was the one ACTUALLY being ripped apart by zombies on top of Glenn. Because the camera in The Walking Dead is typically a lens of truth, showing us either what is actually occurring or giving us insight into a particular character's mind, intentionally framing a scene to mislead us, and only us, feels like a betrayal of trust. It's a shitty, manipulative move from a team that just wants to toy with us.
2. Glenn's ultimate escape was ridiculous, implausible, and inconsistent with the show's world
In episode 7, we learn that Glenn survived the zombie attack, because Nicholas was torn apart, not Glenn, and Glenn managed to escape from the zombies by hiding under a dumpster. This seemingly goes against the rules of the show. For one, when Glenn "dies" in episode 3, he's openly screaming for dramatic effect, completely surrounded on all sides by the walking dead. There are zombies right on top of him, so even taking into account their generally poor awareness, the idea that he could just slip out and they wouldn't notice is absurd.
Given the show's merciless attitude toward inescapable scenarios, allowing a character to get out of such a ridiculously dire situation seems unfair.
3. It is impossible to keep TV secrets in the age of the internet, and this one wasn't particularly well kept.
Another complaint that frequently crops up in regards to the Glenn fakeout is how "obvious" it was that he was alive. The thing is, as outlined above, the show actually DOESN'T make it obvious. It shows us Glenn getting his guts ripped open by an inescapably large zombie herd. There's nothing ambiguous there.
However, when a show is as high-profile as The Walking Dead, fans will go over everything with a fine tooth comb. And when those same fans like to post set photos from future episodes…well, things become pretty clear when Glenn is talking with characters who have yet to be introduced.
This information isn't just shared by an inner circle of internet TV geeks anymore, either. The internet is a giant, international water cooler these days, where everybody comes to discuss their favorite shows. When even one person makes the connection that Glenn will be in future episodes, they share it with everybody they know on social media, and then those people all share it with their friends. The cycle continues until everybody knows, and the "twist" is ruined a day after it's set up.
Even without telltale signs like set photos from future episodes, the online render farm of human plot decoders can tank a story's twist (see: season 6 of Dexter). So when the third episode's corresponding Talking Dead so clearly makes a question out of a death which is presented as concrete, it only clues fans in that something is afoot. How hard would it have been to have Steven Yeun show up to do a fake character eulogy, or include Glenn's death in the "In Memoriam" section? Or just NOT read off a stupidly vague note from showrunner Scott Gimple promising that "In some way, we will see Glenn, some version of Glenn, or parts of Glenn again, either in flashback or in the current story, to help complete the story?" It was a whole episode of building a mystery around a twist that, in order to be successful, couldn't feel mysterious.
And so, by the middle of the next week, just about anybody who watched The Walking Dead and had an internet connection was well-aware that Glenn was still alive. This made it even worse that…
4. They took FOUR WEEKS to reveal what everybody already knew
The week after Glenn "died," they followed it up with a Morgan flashback episode. It was a good story, arguably the best of the season, but it came at a time when everybody really just wanted to have their suspicions confirmed about Glenn. This caused a lot of people to hate the episode, solely because it didn't provide the narrative closure they were looking for.
After that week, we returned to the present, but still didn't get to see what happened to Glenn for three more weeks! The long period of waiting for information we had already discovered just further weakened the pay-off. By the time Glenn came back, it was a delayed inevitability, not the joyous return of a popular character.
5. Glenn's return from certain death hurts the show's dramatic stakes and weakens future deaths
Even beyond this particular instance, the Glenn fake-out will affect the way fans view the series going forward. For one, every time a major character dies from here on out, fans will theorize that the character is alive and expect that the writers are screwing with them. Even if they're not, it still means that the impact of a death will not be as strong, since viewers will just deny it happened until it becomes an inevitability.
More importantly, though, it suggests that The Walking Dead writers actually do consider some characters too popular to kill. They've long claimed that not a single character, even Rick, is safe. However, how likely is it that they would ACTUALLY kill off the main protagonist of the show? Or a fan-favorite like Glenn, or Daryl, or Carol (who even comic creator Robert Kirkman says is off-limits now), or Michonne? The whole charade around Glenn suggests that they're afraid of what would happen if they really offed his character.
To regain the tension and fear that anybody could go at anytime, the writers need to do something quickly. Somebody who's been with the show for a significant amount of time has to die to prove that the series is still dangerous. Maybe this whole thing is an extra layer of deception, meant to make us feel that Glenn is safe before killing him in the second half of the season. I can hope that the writers are that clever, but their handling of this particular twist makes me think otherwise.